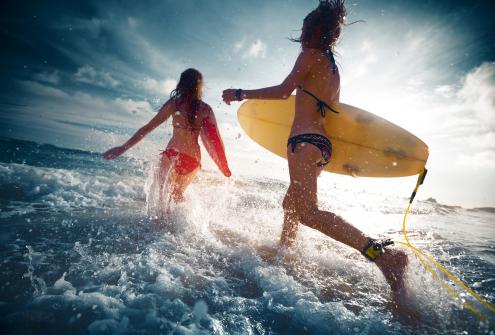 The art of surfing, known as heʻe ʻana in the Hawaiian language, was first discovered by Joseph Banks on the HMS Endeavour during the first voyage of James Cook, during the ship's stay in Tahiti. Surfing was a central part of ancient Polynesian culture and predates European contact. The chief (Ali'i) was traditionally the most skilled wave rider in the community with the best board made from the best wood. The ruling class had the best beaches and the best boards, and the commoners were not allowed on the same beaches, but they could gain prestige by their ability to ride the surf on their boards.
The sport was also recorded in print by other European residents and visitors who wrote about and photographed Samoans surfing on planks and single canoe hulls; Samoans referred to surf riding as fa'ase'e or se'egalu. Edward Treager also confirmed Samoan terminology for surfing and surfboards in Samoa. Oral tradition confirms that surfing was also practiced in Tonga, where the late king Taufa'ahau Tupou IV was the foremost Tongan surfer of his time.
The Hawaiian Islands soon became settled by traders and missionaries following in Cook's footsteps and this resulted in a decline in surfing as the population of native Hawaiians dropped through disease and interbreeding. The influence of the missionaries whose strict, religious principles saw surfing as a negative diversion from leading a pious, austere life also led to a drop in participation. The popularity and expansion of surfing throughout the world only began at the beginning of the 20th Century when the Olympic gold winning Hawaiian swimmer, Duke Kahanamoku travelled throughout California and Australia giving demonstrations of surfing that wowed crowds and became newsworthy events.
Surfing is now a global sport practiced by all ages and cultures and is not only a sport or holiday activity but for some people, a way of life. Surf spots can be found everywhere now and has become a major draw for tourists across the globe. From Ecuador to Morocco, Sri Lanka to Australia; there is a surf spot for all abilities to be found in all cultures, and we are here to guide you through the maze of destinations.